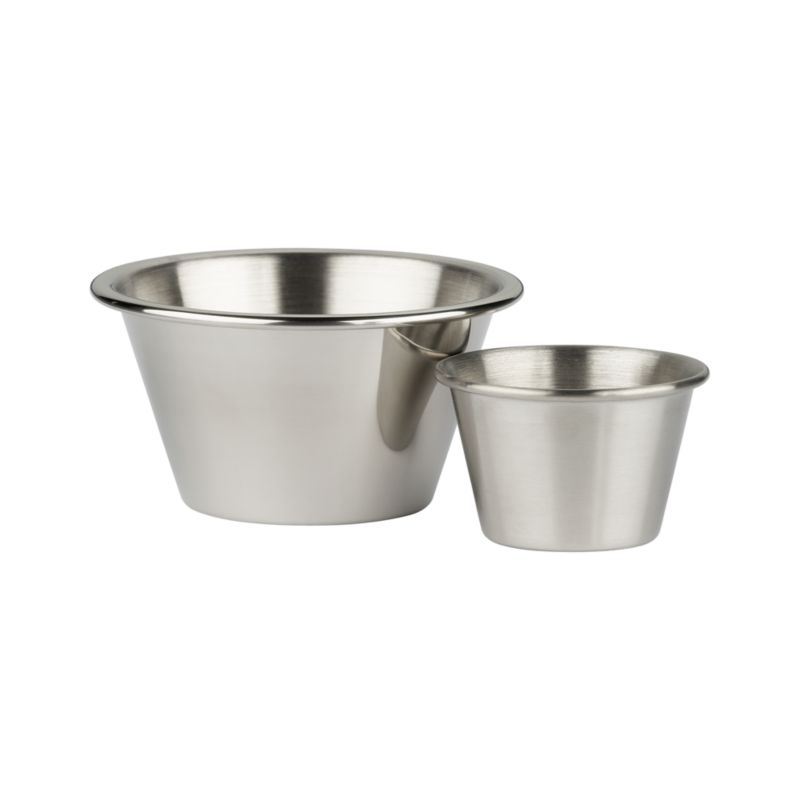 I got a handful of these Stainless Steel Condiment Prep Cups from Crate and Barrel ages ago.  Like, pre-kids, with visions of concocting my own Melting Pot fondue masterpiece at home, complete with a bevvy of sauces.    That never happened, and these cups languished from lack of use for years, until my kids got big enough to eat finger foods.
Now, I use them All. The. Time.  They are so great for whatever your kiddo likes to dip – ketchup, ranch dressing, hummus, etc.  When I make a dish that has a sauce the kids may or may not like, I serve it to them on the side in one of these.   They're great for portion control too.  When I dish out Costco Trail Mix, one scoop is all you need.
I love that they're cheap – I have the smaller size which is only a buck at C&B.
I love that they're virtually indestructible – they get dropped all the time, the only one we've ruined so far is the one I trashed by accidentally turning on the disposal with it in the drain.
Anywho, I love them and thought I'd share.  You can find more things people love at Things I Love Thursday – a blog carnival hosted by Jill at The Diaper Diaries.
*Disclosure:  nobody paid me or compensated me to review these.  I just happen to like'm.