I've been trolling the internet for the perfect piggy bank for a while.   When my kids were little (even littler than now), Grandma got them beautiful personalized ceramic pigs.  They were darling, but it didn't take long for my little darlings to play with them and crack them.  They also constantly took the money out and played with it and lost it, since they were too young to appreciate the value of money.
So I began to look for another type of piggy bank and I had very specific criteria:
Clear – I wanted the money to be visible, so the kids could see how much they were accumulating
Attractive – something I didn't mind looking at
Dividable – a way of designating the funds for different categories.
Durable – it needed to withstand the abuse of my children
Affordable – I didn't want to spend an arm and a leg on … ahem.. saving money
I searched the internet for days and couldn't find anything that fit the bill.  The divided container was the biggest obstacle.  I found a few options out there, but none met my other criteria.  Perhaps one of these might work for you:
Since I couldn't find the perfect bank online, I decided I would have to make my own.  I went to The Container Store to see what I could find.  Now, I'm sure there a tons of suitable receptacles at home that could be re-purposed, but I had a vision of creating something cute and uniform.   After browsing their aisles, I finally found just what I was looking for: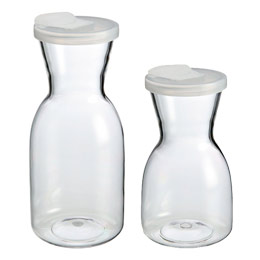 These clear acrylic carafes were just what I was looking for.   They are sturdy, cheap ($3.99 and $4.99) and they had a lid that screwed on, as well as an opening that serves as a coin slot.  I bought six containers – two big and four little and brought them home.  Using various craft scraps, I decorated and labeled them:
I'm sure those with a more artistic sense than myself could have prettier them up nicer, but I was pleased with how they turned out.   We explained to the kids what the three containers were for.   Spelling out the words is good practice for my daughter who is learning to read.   I also explained that once money went into the GIVE or SAVE bottle, it would not come out without parental permission.    GIVE is for giving to God or to others who need help.   The kids will be taking some out this week to bring to AWANA for their "adopt a club" program.   SAVE will go to the bank for long-term savings.   SPEND is there to do with what they want.  They can play with it, lose it, burn it, whatever.   I no longer freak out when I find money strewn wherever because it is their SPEND money and if they don't take care of it, so be it.
I just created these, so I don't know how well the idea will last over the long term, but I'm really glad to have a plan in place that reinforces the savings principles that we want to teach.  I look forward to watching them decide how and if to spend their money — the best way to learn the value of  money is through practical application.
Making our own "piggy banks" works for me.   To find other WFMW tips, visit We Are That Family.